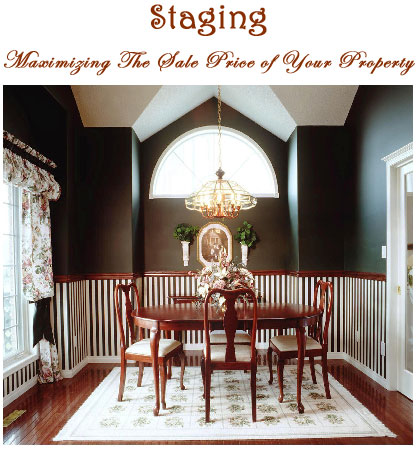 Your Home at its BEST!
· Staging your home makes it seem more spacious. By repositioning furniture and accents, you can make the best use of the space.
· Paint, or at least wash, the walls. Neutral colors are more sought after. Avoid "off" or "odd" colors, and deep tones that are hard to re-paint.
· Inspect carpeting, draperies, blinds, etc. and clean, repair, or replace as necessary.
· Keep clutter under strict control!
· Re-arrange lamps, increase wattage of light bulbs, and keep window coverings open so the house is as brightly lit as possible. This one is really important!
· Keep the kitchen counters completely free of small appliances. Hide them and bring them out to use, then put them back. Avoid clutter inside the cabinets (people do look inside).
· Bathrooms must be spotless and in perfect condition; no leaks, drips, water spots, etc. Clear off vanities, clear out the shower, and keep every-day toiletries in a basket under the sink. Replace all caulking. Buy new towels, mats, and shower curtains.
· Light the fireplace during showings in the fall and winter.
· Clean, organize and "thin-out" your closets; store out-of-season clothes elsewhere in your house.
· Clean and organize the basement; have that yard sale you've been meaning to have. Eliminate any musty odors and dampness by repairing and cleaning problem areas.
· Inspect and repair all faucets, hinges, door knobs, etc. Be sure everything works as it should; no drips, no squeaks, no stuck doors, no loose cabinet hinges, etc.
Curious about the
'7 Steps for Staging Your Home to Sell'?
Contact Drew for his Staging Brochure!